4th and 99 New!
2007
15 minutes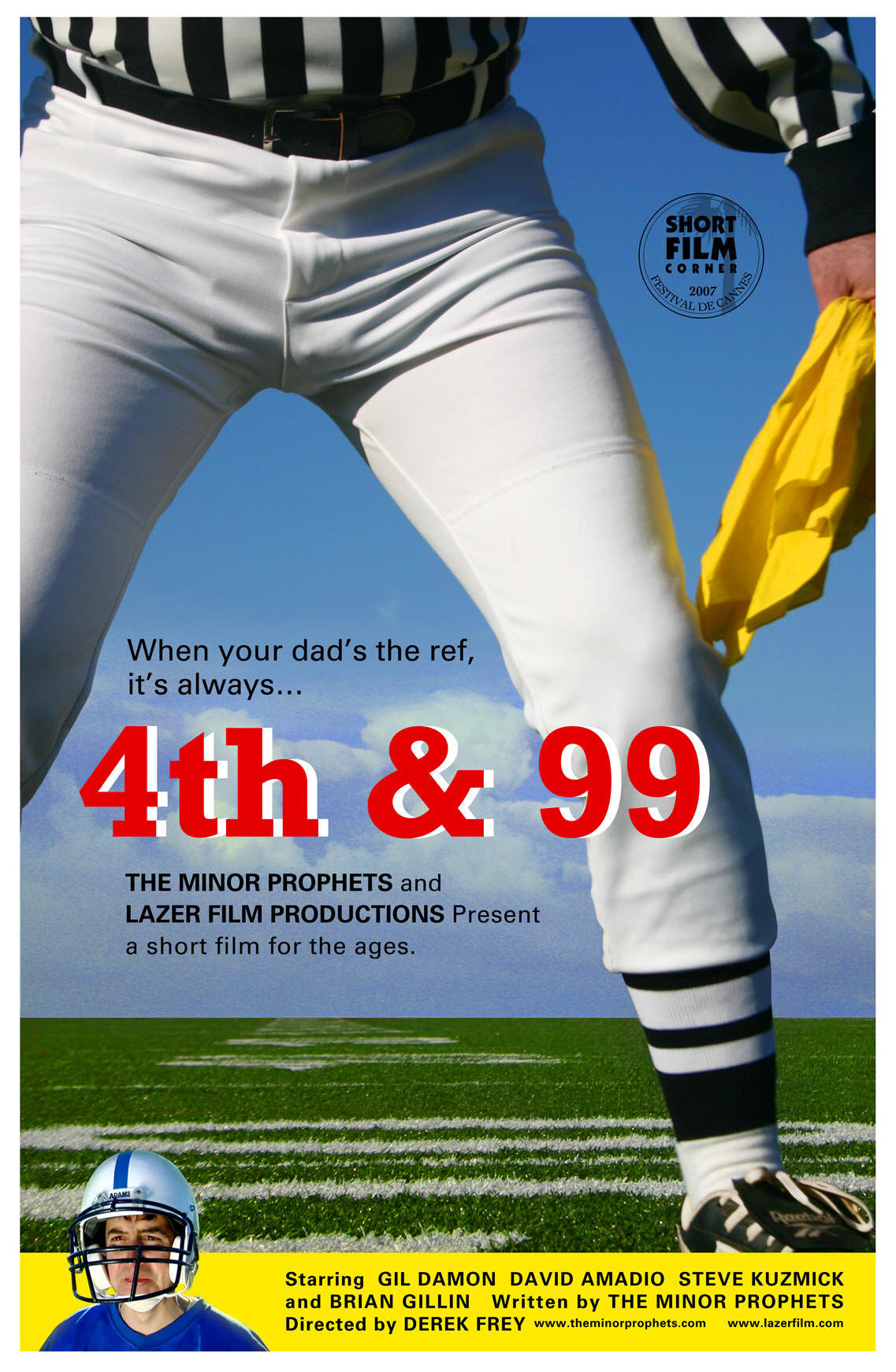 THE MINOR PROPHETS & LAZER FILM PRODUCTIONS
Present
"4th and 99"
Starring GIL DAMON DAVID AMADIO STEVE KUZMICK and
BRIAN GILLIN Written by THE MINOR PROPHETS Directed by DEREK FREY
www.theminorprophets.com
www.lazerfilm.com
Just minutes after losing the biggest game of the year, all-state receiver Bobby Makefield takes to the turf again in a one-on-one overtime shocker. Driven to the edge by his referee father, Bobby squares off against the winning team's golden boy-not to mention Mr. Makefield's newest protégé-Tommy Johnson. A dog-walker turned field general throws the game of his life, as Bobby performs a savage ballet, chopping feet and taking pain like the hard-muscle legends of yore. Come crunch time, the only thing standing between Bobby and victory is the half-man, half-Zebra on the sideline. When Bobby catches the winning touchdown, Mr. Makefield bombards him with flags, the last of which he slings at his face, declaring, "You're adopted." Here is the motivation behind seventeen years of abuse, including the latest injury: a blown call at that afternoon's championship game. Mr. Makefield penalizes Bobby ninety-nine yards for making his life miserable, but instead of kicking, the unfortunate son goes for it. On the game's final down, Bobby jukes Tommy out of his wardrobe, and the dog-walker-gunning to rewrite his own personal record book-launches a Brett Favre spiral. It appears the game is won until Bobby, following the course of his newly discovered blood, cuts across the field and lays a rib-bending, brain-rattling, self-affirming hit on his former dad. Staring down at Mr. Makefield, Bobby removes his helmet and proclaims, "Touchdown," whereupon he is violently tackled by the quarterback whose highlight he abandoned.
REVIEW FROM OPENFILM:
Title: 4th and 99
Stars: 4
Blurb: "Kind of like Broken Lizard's Club, except funny."
4th and 99 is the funniest thing to come out of Pennsylvania since M. Night Shyamalan. The difference here is that the filmmakers, a comedy troupe known as The Minor Prophets, are intentionally trying to make us laugh. Kind of like Broken Lizard's Club, except funny.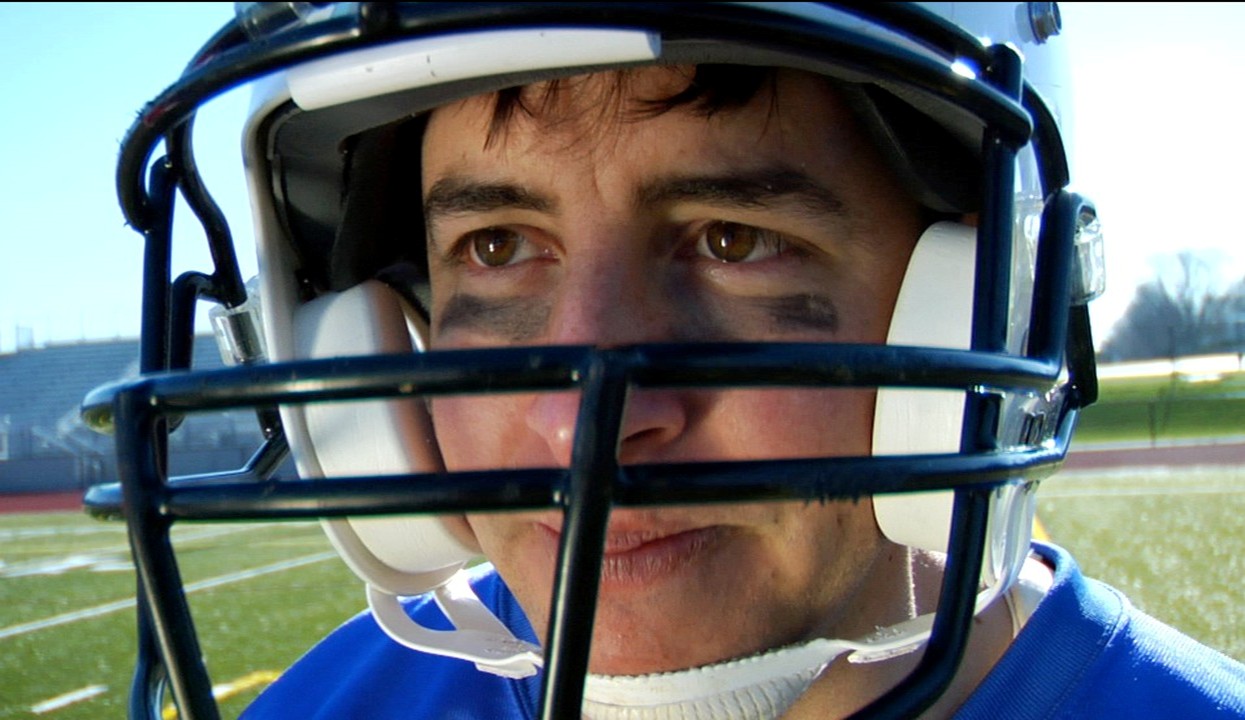 As played by TMP regular David Amadio, football player Bobby Makefield is somewhere between 12 and 35 years old. Bobby is at loggerheads with his dad (Gil Damon). That's because Mr. Makefield botched a call while officiating one of Bobby's games, thus preventing his son from scoring the winning touchdown. He instigates a confrontation between Bobby and another player, Tommy Johnson (Steve Kuzmick), and the "boys" face off in an epic one-on-one match on the field.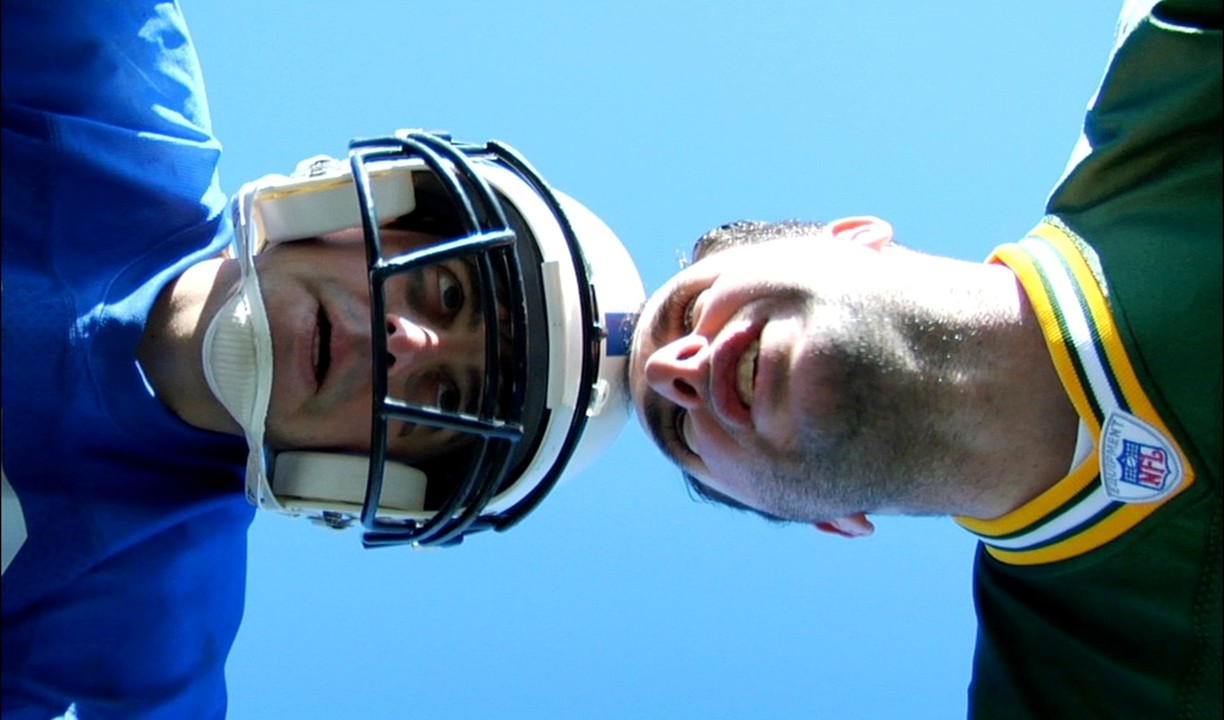 The hostile parenting on display here is simply hysterical; wait until you see Mr. Makefield do a belly-flop victory dance after Tommy scores a touchdown. TMP movies always have an element that's a little… well, insane. Here, it's Brian Gillin as "Favre." I have no idea why he's named Favre. He wears the former Greenbay god's jersey, and he has a picture of the quarterback strapped to his wrist. The first time we see him, he's walking out of a women's restroom. This is the stuff of bizarro, unexplained comedy, like when Ron Burgundy and his friends got into an all-out brawl in Anchorman.
4th and 99 is better filmed and better edited than other TMP movies I've seen. The action on the field is excitingly choreographed and easy to follow. The actors and filmmakers find just the right note of comic cruelty – they tickle our funny bone, but they do it with a jagged edged sword. Long live TMP!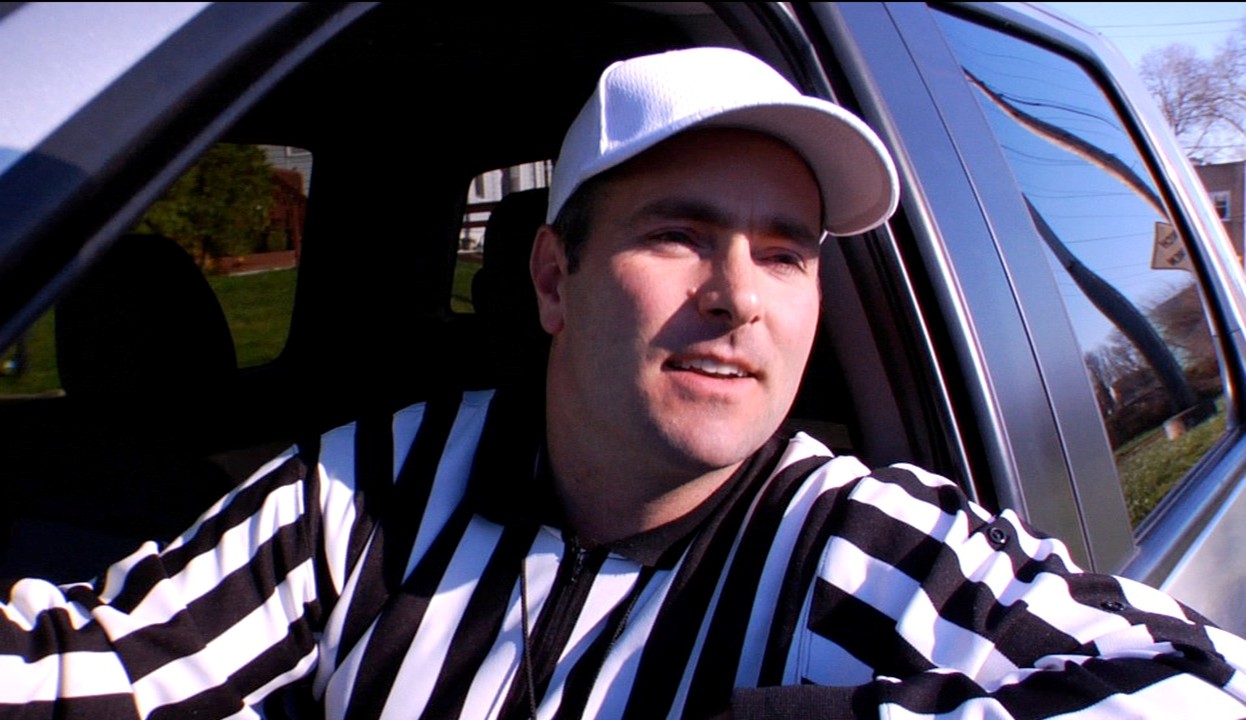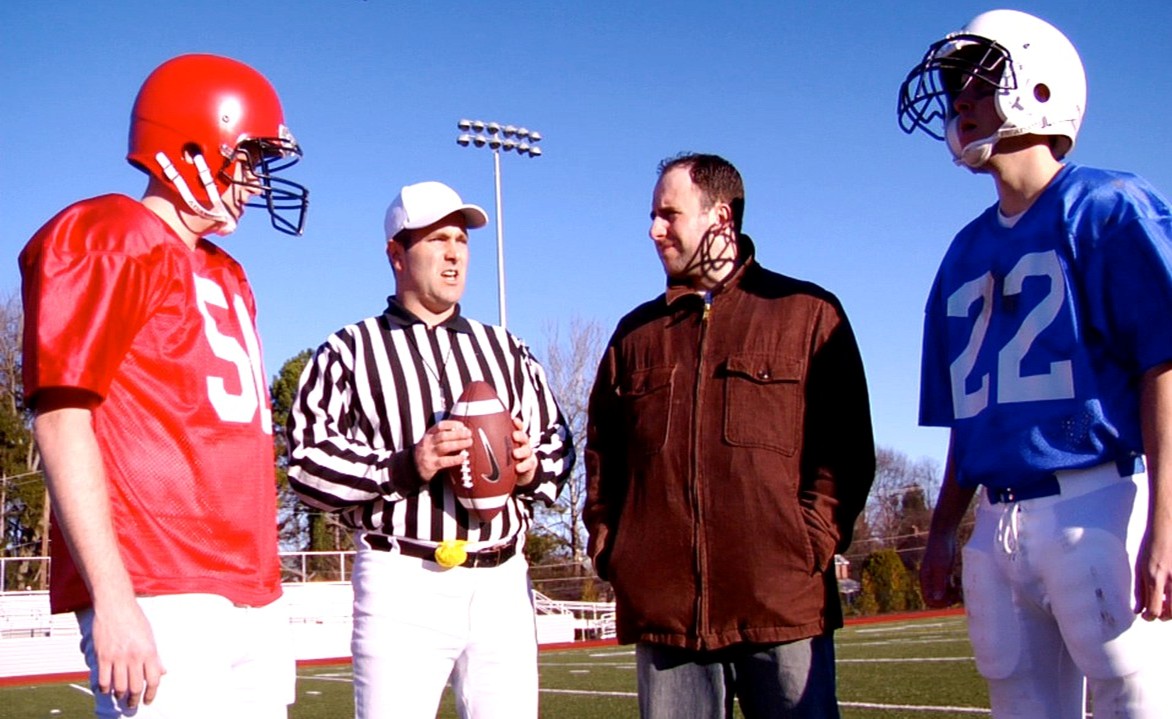 4th and 99
Director's Comments
Working with The Minor Prophets on 4th and 99 was an exciting and personal experience for me. Two of the Prophets, Gil and Brian, were good friends of mine in middle school. Gil and I spent a great deal of the 7th grade torturing friends and teachers with our reenactments of skits and characters from Saturday Night Live.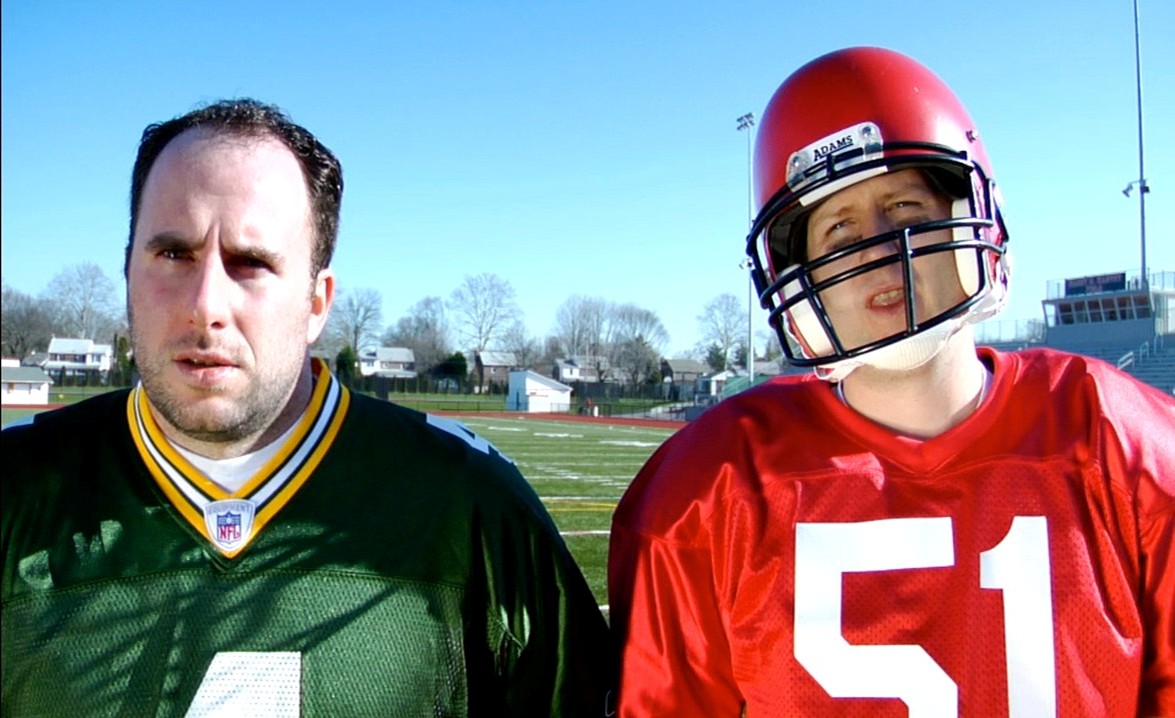 In January of 2006 I received an e-mail from Gil. It was the first time I had been in contact with him since high school. He expressed his appreciation for the films I have worked on and filled me in on The Minor Prophets. The moment I checked out one of their short films, "Sexual Genius", I knew I wanted to collaborate with them. Maybe it was a need for me to get back to my home town roots but more likely it was the pure hilarity in their work. Many people can be funny, but to create work that is equally as poignant is rare.
In May of 2006 I met up with The Minor Prophets in their secret cave of comedy. The meeting was a adrenalized dose of creativity. It was very clear we had similar goals as well as views of the world at large. After the Prophets bounced a number of concepts around we concluded to shoot a short film during my next visit back to Pennsylvania.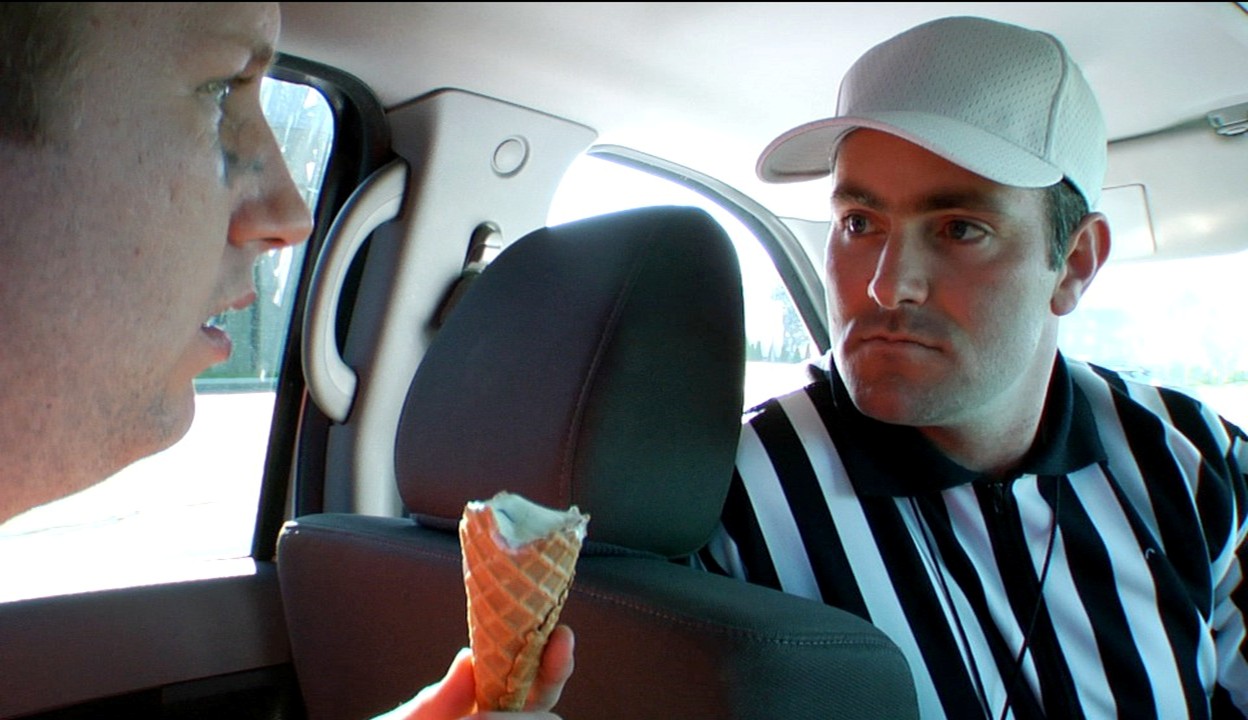 I went into reading the script for 4th and 99 with a bit of reluctance. The Prophets had explained it was a story about football. I played some sports in school but was never good at them. I always had to work hard just to keep up with the rest, so my initial response was a reluctant one. Once having absorbed the biting dialogue it was clear to me this story was less about football and more about universal truths of father/son relationships and participating in school sports. It was a complete crack up. The visual aspect of the story was instantly infused in my head.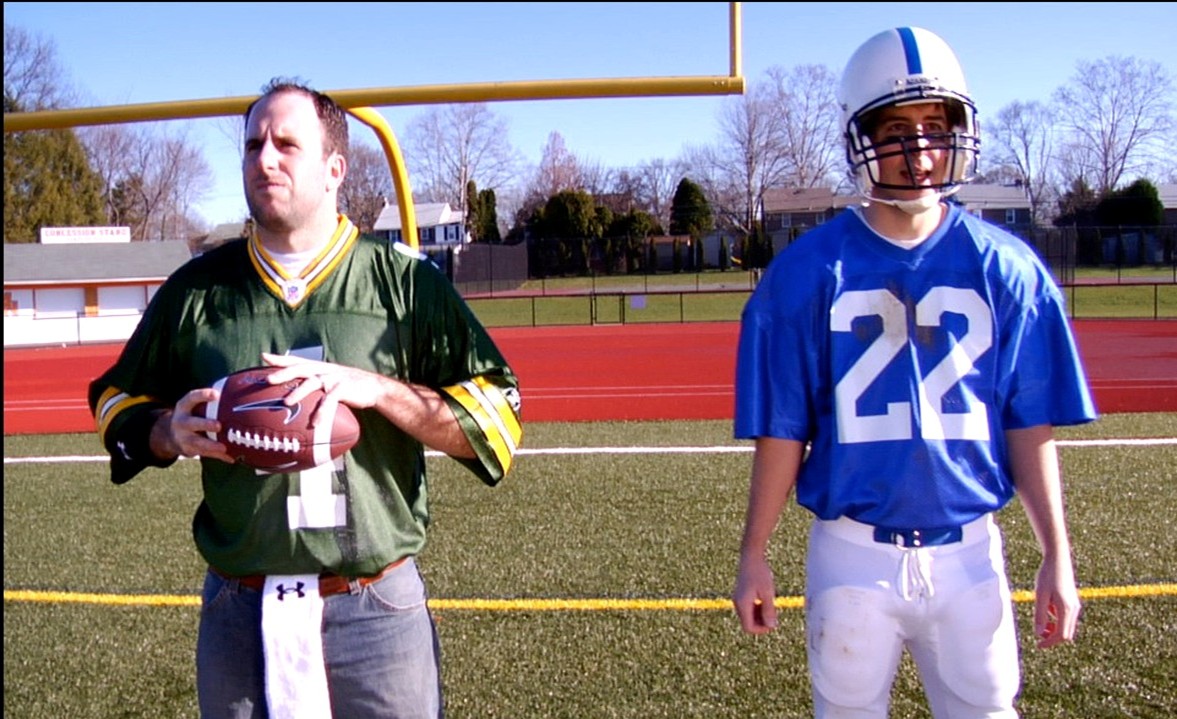 That brings us to November 24, 2006; Black Friday - the start of the Thanksgiving weekend. Most people were taking advantage of sales at the local mall. The Minor Prophets and I began a weekend of shooting 4th and 99. There was blood, sweat and tears, as well as aching joints and pulled hamstrings. Let us not forget the wives, girlfriends and families wondering if we would make it to Thanksgiving dinner on time. We all agree it was well worth the sacrifice.
I hope you enjoy 4th and 99 as much as I enjoyed creating it with Gil, David, Steve and Brian. These guys have an incredible amount of talent. Now if we can only get our feature off the ground so the world can experience the furious genius of The Minor Prophets.
Derek Frey
June 2007